23 September, 2012
Pumpkin Seed Recipes
Posted in :
Fall Recipes
on
by :
kas10900
Tags:
healthy pumpkin seeds
,
how to make pumpkin seeds
,
pumpkin seed recipes
,
pumpkin seeds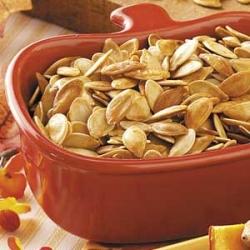 Pumpkin seeds are a tasty fall treat. There are lots of great pumpkin seeds recipes you can try to make pumpkin seeds. You can make them savory or sweet, roasted or raw. While Autumn is a great time to eat them you can enjoy them all year round.
Pumpkin seeds are very nutritious and contain lots of beneficial fiber, vitamins, minerals and antioxidants. They are a good source of protein and are low on the glycemic index.
Hulled and roasted pumpkin seeds are also called pepitas which also refers to the raw seeds as well. You can eat pumpkin seeds by the handful or use them as toppings for soups and breads and other recipes or make them into pumpkin seed bars for a healthy snack.
Here are some pumpkin seed recipes and tips on how to make pumpkin seeds.

Toasted Pumpkin Seeds Recipes
Pumpkin Seed Dried Cherry Trail Mix
Pumpkin Spice Seed Bars (Low Carb and Gluten Free)
Health Benefits of Pumpkin Seeds
Pumpkin seeds contain lots of healthful substances that are good for you. They are a great source of fiber and essential fatty acids. They are high in zinc, calcium, iron and magnesium. Pumpkin seed oil has many medicinal purposes as well.
After you carve your Halloween pumpkin, what can you do with all those seeds? Why eat them of course!
For a really simple pumpkin seed recipe you can rinse them off and place them on a sheet pan with some salt and olive oil and roast them in the oven at 350 degrees until golden brown.
Enjoy!