11 January, 2013
Meatball Appetizers
Posted in :
Party Food
on
by :
kas10900
Tags:
appetizer recipes
,
appetizers
,
holiday recipes
,
meatball appetizers
,
meatball recipes
,
meatballs
,
party recipes
,
swedish meatballs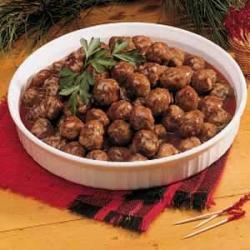 Meatball Appetizers are a great addition to any party fare. Whether it's a holiday, cocktail party, wedding or a Super Bowl Party, meatball appetizers go over well and disappear even faster.
You can make meatball appetizers in the oven, on the stove or in a crockpot or slow cooker. There are spicy meatball appetizers, bbq meatball appetizers and swedish meatball appetizers. Enjoy these meatball appetizer recipes at your next festive occasion.
Meatball Appetizer Recipes

Swedish Meatballs

Spicy Cocktail Meatballs

Italian Cocktail Meatballs with Herbs and Ricotta

Super Bowl Sweet and Sour Meatballs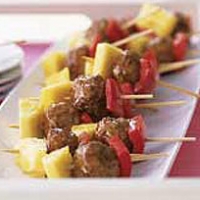 Pineapple Meatball Appetizers
Meatball Appetizer Recipe Books
Easy Meatball Appetizer Recipe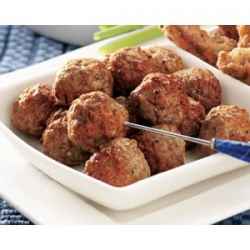 Here is an easy Meatball Appetizers Recipe for your next cocktail party.
2 pounds of ground beef
1/4 cup of seasoned bread crumbs
1/4 cup of finely chopped sweet onion
1 egg
4 tablespoons of Ketchup
2 tablespoons of Maple Syrup
1 tablespoon of Dijon Mustard
1 teaspoon Worchestershire Sauce
1/2 teaspoon salt
1/4 teaspoon ground black pepper
Combine all ingredients in a large bowl.
Shape into bite size meatballs and place on a baking sheet. Bake at 425 degrees until nicely browned about 15 to 20 minutes.
Makes about 4 dozen meatballs.
How to Make Meatball Appetizers
Meatballer
Having a meatballer is a handle tool when making meatballs. A meatballer can help you make consistently sized meatballs so that they all cook evenly and are about the same size when cooked. This will give your meatball recipes a nice look as well. This stainless steel meat baller makes the task of forming the balls easier and less messy. When you are done they can be easily cleaned and stored for next time.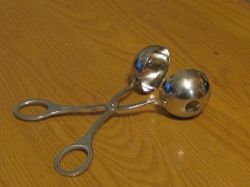 Norpro Stainless Steel Meat Baller
Crockpot Meatball Appetizers

Drunken Meatballs (With Crock Pot Instructions)

Crock Pot Swedish Meatballs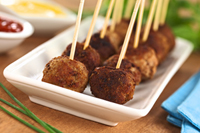 Crock Pot Appetizer Meatballs
Meatball Maker
A Meatball Maker is a useful kitchen appliance if you like to make lots of meatballs. You can fry them up in a pan or put them in an oven but you can save yourself a lot of time and mess if you use this counter top meatball maker. It makes eight large meatballs and cooks them in a fraction of the time and less electric than heating up a whole oven. They come out nice and juicy and clean up is a breeze. It also helps keep all your meatballs the same size and you can easily make a bunch of batches.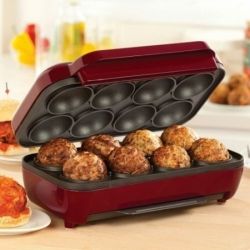 Sensio Bella 13587 Meatball Maker, Red
Meatball Appetizer Sauce
More Great Holiday Food Ideas on Pinterest