5 February, 2013
Baked Brie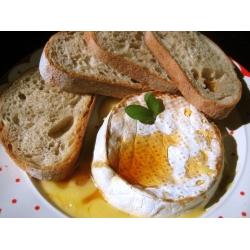 Posted in :
Happy Holidays Food
,
Party Food
on
by :
kas10900
Tags:
baked brie
,
baked brie recipes
,
brie
,
cheese
,
french cheese
,
how to make baked brie
Baked Brie is a gooey and delicious cheese dish that is great to serve at parties or for an intimate dinner for two. Brie is a soft french cheese that melts into a creamy consistency. Baked brie is usually made by wrapping and baking the brie in a puff pastry or just in its own rind. It can be served with bread, crackers, fruit, herbs or a sweet sauce. The rich flavor is a rare treat and a delicacy.
Here are some baked brie recipes and ideas for serving baked brie. It would be perfect for your next wine and cheese party.
How to Make Baked Brie
Baked Brie Recipes

Baked Brie with Herbed Grapes

Baked Brie

Baked Brie with Apples & Cranberries

Crescent-Wrapped Apple Brie
Brie
Brie is a soft ripened cheese made from cow's milk. It is produced in the Brie region of France. It is usually aged for five to six weeks. Brie is covered in a white mold rind which can be eaten with the cheese. The cheese is a creamy white and has a mild flavor which becomes strong if left to mature for several months. Brie is usually cut from a wheel of cheese into wedges and so the rind is left on the top, bottom on outer edge.
Brie is eaten for breakfast in some areas of France. It is good paired with apples and honey and walnuts. Other fruits go well with its creamy and lightly salted flavor.
Brie Cheese
Food on Pinterest