19 December, 2012
Oatmeal Cookie Recipes
Posted in :
Cookie Recipes
,
Healthy Recipes
on
by :
kas10900
Tags:
cookie recipes
,
cookies
,
healthy recipes
,
healthy snacks
,
oatmeal
,
oatmeal cookie recipes
,
oatmeal cookies
,
raw cookie recipes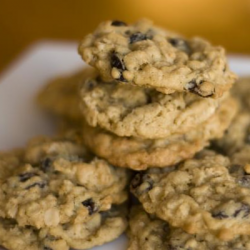 Are you looking for some great Oatmeal Cookie Recipes? There are lots of recipes to make the best oatmeal cookies. You'll find some great ideas to make some oatmeal into a delicious treat. You can add raisins or cranberries or applesauce for a healthy oatmeal cookie recipe. You can add peanut butter, chocolate chips or M&M's for some really flavorful oatmeal cookies.
Oatmeal is a healthy ingredient to add to your diet and what easier or tastier way than with cookies. There are lots of variations from eggless to low sugar or gluten free, crisp or chewy you're sure to find several recipes you can make and enjoy. Oatmeal is a good source of fiber and gives you lots of energy. These recipes are a fun and tasty way to add more of it to your diet.
Oatmeal Cookie Recipes

White Chocolate Chip Cranberry Oatmeal Cookies

Chocolate Chip Oatmeal Cookie Recipe

Chewy Cranberry Oatmeal Cookies Recipe

The Best Peanut Butter Oatmeal Cookies
How to Make Oatmeal Cookies
Oatmeal Cookies
Easy Oatmeal Cookie Recipe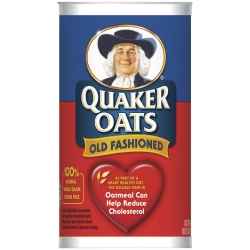 Quaker Oats Old Fashioned Oatmeal
3/4 cup of brown sugar
1/2 cup sugar
1/2 cup of butter
2 eggs
1 teaspoon of vanilla
3 cups of oatmeal
1 1/2 cups of flour
1 teaspoon of baking soda
1 teaspoon of ground cinnamon
1/2 teaspoon of salt
1 cup of raisins
Combine brown sugar, sugar, butter, eggs and vanilla in a bowl with a hand mixer or fork until smooth.
Combine oatmeal, flour, cinnamon, baking soda and salt in separate bowl and mix well.
Add dry mixture and raisins to the moist ingredients to form the cookie dough. Spoon out rounded tablespoon sized cookies onto a cookie sheet and bake at 350 degrees for 8-10 minutes.
Makes about 4 dozen cookies.
Healthy Oatmeal Cookie Recipes

Healthy Pumpkin Oatmeal Cookies Recipe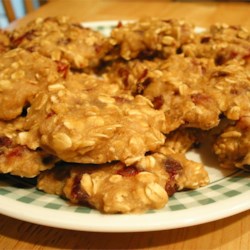 Egg-Free Low-Fat Oatmeal Cookies

Gluten-Free Oatmeal Cookies

Low Sugar Applesauce Oatmeal Cookies
Raw Oatmeal Cookie Recipe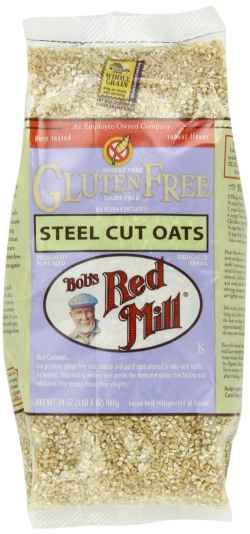 Bob's Red Mill Gluten Free Whole Grain, Steel Cut Oats, 24-Ounce Bags (Pack of 4)
Here is a raw vegan oatmeal cookie recipe that you can whip up in no time. No baking is required for these "cookies".
1/2 cup dry oats
1/4 cup fresh medjool dates (pitted)
1/4 cup of raisins
1 teaspoon of cinnamon
1/2 teaspoon of vanilla extract
Blend all ingredients in a vitamix or blender until combined.
Roll into cookie size balls and flatten. You can add extra raisins, carob chips, dried cranberries, goji berries, coconut, etc. before forming the cookies to make them even more tasty. If the dough is too dry you can also add some agave syrup or coconut oil. You can also use gluten free oats if you have a gluten sensitivity.
Enjoy!
Oatmeal Cookie Recipes on Pinterest