15 August, 2012
Caramel Popcorn Recipes
Posted in :
Happy Holidays Food
,
Party Food
on
by :
kas10900
Tags:
caramel
,
caramel popcorn
,
caramel popcorn recipes
,
flavoring
,
popcorn
,
popcorn ball recipes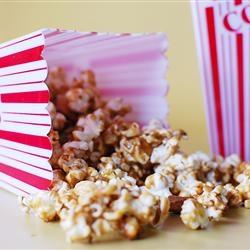 Caramel Popcorn is a yummy treat for everyday snacking or special occasions. There are lots of great Caramel Popcorn recipes that you can try. There are caramel corn recipes that you can make with caramel, marshmellow, nuts, chocolate and peanut butter. You can make gourmet caramel popcorn balls too.
Whether it's microwave, air popped or kettle popped corn, you can add some gooey caramel for some extra special flavor.
You can eat gourmet caramel popcorn any time, at birthday parties, weddings, holidays, or just movie night at home. Check out these great caramel popcorn recipes and add a little sweet and salty treat to your day.
Caramel Popcorn Recipes

Christmas Caramel Popcorn

Quick and Easy Caramel Corn

Grandma Paul's Caramel Corn Recipe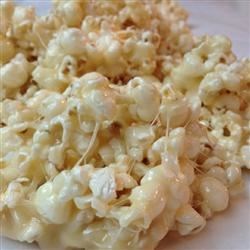 Caramel Popcorn with Marshmallow

Chocolate Caramel Popcorn

Peanut Butter Caramel Corn
How to Make Caramel Popcorn
Easy Caramel Popcorn Recipe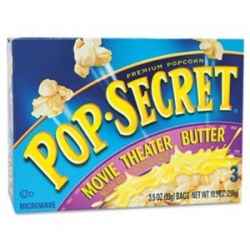 Here is an easy caramel corn recipe that has just a few ingredients.
3.5 ounce bag of Microwave Popcorn (about 12 cups when popped).
1 cup of light brown sugar
1/2 cup of butter
1/4 cup of corn syrup
1/2 teaspoon of salt
1/2 teaspoon of baking soda
Prepare microwave popcorn per the instructions on the bag. Pour cooked popcorn into a large bowl and set aside.
Combine light brown sugar, butter, corn syrup, and salt in a large sauce pan and bring to a boil. Cook for 5 minutes stirring occasionally. Remove from heat.
Stir in baking soda and immediately pour the caramel mixture over popcorn. Coat the popcorn thoroughly and spread out on a greased baking sheet.
Bake at 200 degrees for 60 minutes stirring every 15 minutes. Remove from oven and cool.
You can add peanuts, cashews, or other nuts to the mixture before adding the caramel or chocolate chips, m&ms, or raisins to the caramel corn after it is cooled.
How to Make Caramel Popcorn Balls
Caramel Popcorn Ball Recipes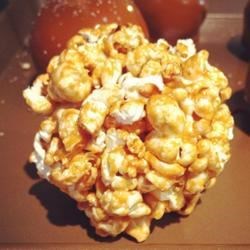 Caramel Popcorn Balls

Caramel Popcorn Balls

Martha's Popcorn Balls
Here are some caramel popcorn recipes on Pinterest.