4 September, 2012
Hot Apple Cider
Posted in :
Fall Recipes
,
Happy Holidays Food
on
by :
kas10900
Tags:
apple cider recipes
,
hot apple cider
,
hot apple cider recipes
,
spiced apple cider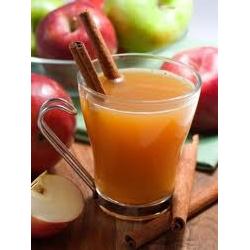 Hot Apple Cider is the perfect beverage for those cold and crisp Fall and Winter days and nights. When the air turns cool it's nice to curl up with a good book and a steaming mug of hot apple cider. The smell of cinnamon, allspice and apples brings a warmth to your home and brings back memories of happy holidays.
Here are some great hot apple cider recipes and ideas to add a little spice and warmth to your day. For the purist you can just heat up some apple cider and serve in a mug with a cinnamon stick. For a little more pizzazz you can try a mulled hot apple cider.
Mulled means heated, sweetened and spiced. There are several different spices that you can use. Cinnamon is the perfect spice compliment to apples and is the most often used. Nutmeg adds a little something special but be sure not to use too much as it can be overpowering. Cloves also go well with apples and add a peppery flavor and aroma. Allspice or pumpkin spice are also added for even more spicy goodness.

Cinnamon Sticks, 16″-18″ long, 1 lb. – Bulk
Tropic Bee Orange Blossom Honey, 32-Ounce Bottle
Lemon adds a crisp bite and honey sweetens and mellows. Brown sugar and molasses also sweetens things up and adds some depth. Orange and apple slices are also nice to add to the pot.
If you are really feeling festive you can add some rum or brandy to your hot apple cider and some melted butter for a hot apple toddy.
If you just want ease and convenience you can purchase prepackaged hot apple cider mix that you just add hot water to and enjoy. This is a quick and easy way to prepare hot apple cider without the effort.
Motts Hot Spiced Apple Cider Gift Box, 24 packs
If you have a Keuring Brewer you can get some Green Mountain Naturals Hot Apple Cider K-Cups and make hot apple cider as quickly as a cup of coffee.
Green Mountain Naturals Hot Apple Cider, 24-Count K-Cups for Keurig Brewers
Enjoy your Hot Apple Cider by the Fire
Hot Apple Cider Recipe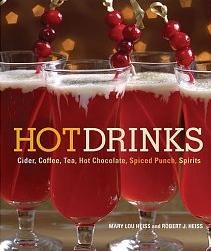 Hot Drinks: Cider, Coffee, Tea, Hot Chocolate, Spiced Punch, Spirits
Here is a simple and tasty Hot Apple Cider recipe. You can also add some slices of apple to this if you like.
2 quarts apple cider
4 cinnamon sticks
1 teaspoon of ground allspice
1 teaspoon of whole cloves
1/4 cup of brown sugar
Directions:
Stir all ingredients in a large saucepan over low heat until brought to a simmer.
Pour into mugs and serve hot.
How to Make Hot Apple Cider
Hot Apple Cider Recipes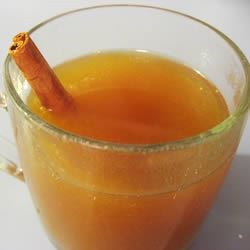 Hot Apple Cider Recipe

Hot Apple Cider with Rum

Spiced Hot Apple Cider Recipe
Mulled Cider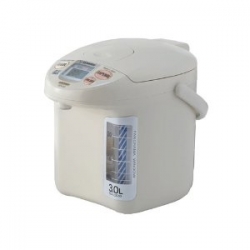 Zojirushi CD-LCC30 Micom 3.0-Liter Electric Dispensing Pot
Mulling Cider in a crockpot, coffee pot or on the stove top is really very simple. Just add your ingredients and simmer on low heat. It will make your house smell great and warm you and your guests up as well. Here is a great hot liquid dispenser to have hot apple cider any time of day.
Need a little pick me up, mulled cider can be very soothing around cold and flu season as well.
Here are some of the spices and other things you'll need to make your hot apple cider recipes.
Cinnamon
In addition to a Cinnamon Stick garnish you may want to add some ground cinnamon to your hot apple cider.

Frontier Natural Products Cinnamon, Og, Grnd Ceyln, Ft, 1.76-Ounce

Nutmeg
Freshly Grated Whole Nutmeg really adds something special to recipes and will be a nice addition to your spiced hot cider.
Allspice
Whole or ground, allspice is an nice addition to apple cider recipes.
Frontier Natural Allspice Ground Jamaican — 1.92 oz
Brown Sugar
Wholesome Sweeteners Fair Trade Organic Dark Brown Sugar — 24 oz Each
Lemon Peel
Frontier Certified Organic Lemon Peel Granules — 2.1 oz
Hot Apple Cider Toddy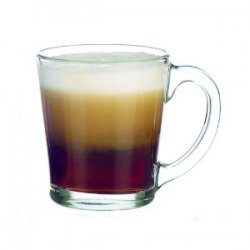 Libbey 13-1/2-Ounce Flare Glass Mugs, Box of 12, Clear
A Hot Apple Cider Toddy will really warm you up on a cold night. This hot apple cider beverage includes either rum or brandy and is a tasty treat.
To make a hot apple cider toddy you can add a stick of butter to the above Hot Apple Cider Recipe and just before serving include 1 cup of Brandy or Rum to the pot.
To make it a virgin you can use 1 teaspoon of Rum Flavored Extract instead.
Pour into a brandy glass or mug and add some fresh whipped cream and a sprinkle of cinnamon on top and you'll have a very relaxing evening indeed.
Brandy Warmer 4-Piece Gift Set
How to Make a Hot Apple Toddy
Hot Apple Cider Recipes on Pinterest